Yay for memorial day and a short work week! I slept a lot this weekend. Like I am not sure I woke up before 11 any day after Friday. I really love sleep so this made me very happy.
Friday I came home and thought about maybe going to a movie with TK when my cousin Gina called and I ended up talking to her for over 3 hours.
*Gina/Brianna Back story*
-She is ten years older than me and pretty much the big sister my mom did not birth for me
-She would spend the night and sneak me out of my bedroom after my bedtime so we could watch music videos on MTV (when they still showed music videos)and dance
-She introduced me to Nirvana. Forever grateful
-She is super awesome
She also lives in some small hick town in Northern California so I don't ever get to see her. She actually called to tell me how much she likes my blog which totally made my day! So here is a shout out for Gina "Hey Girl,Hey!"
Saturday was a pretty big day for me. I rolled out of bed around 11 and watched Bones while re-painting my nails three times. This might seem pretty chill but watching the last episodes of Bones was on my To-Do list so, I felt accomplished.
After I finally took a shower I headed to the nail salon for some eyebrow clean up. I brought Liv with me. She wanted to get her eyebrows done too, for the first time. It was pretty funny as she was flinching the whole way through!
Remember that client party that TK had to go to? I was a good wife and went with him. It was eh, alright. I wore a new dress I got from H&M the other day and I really liked it. perfect for summer.
Later we headed to
Emily's
for a Memorial Day potluck. Fun as always but I forgot to snap photos.
Sunday I pushed myself to get out of bed early, about 11:00. My cousin Jacquie (who happens to be Gina's sister and is equally as awesome) called me and wanted to hang out. She said she had never been to Smeeks or Frances and I wanted to deprive her of these pleasures no longer so we headed there
We took these photo booth photos. We are pretty lame and did not realize we had four more shots, hence the blanks. Please excuse my Jay Leno chin.
We headed to Two hippies for lunch and had a nice long chat!
Last stop Urban Outfitters where I purchased these and have not taken them off since!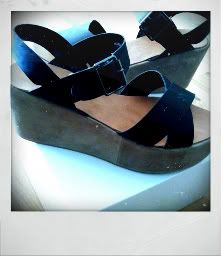 We joined
The Haire's
for dinner at their neighbors who happen to have an awesome homemade brick oven in their backyard. Seriously some of the best pizza I have ever had.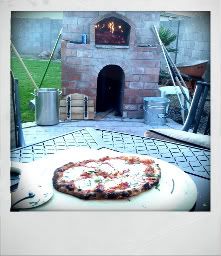 We left around midnight and the weather was amazing so we invited my sister and cousins over and had an impromptu bonfire.
Monday I felt pretty shitty. I did a whole bunch of laying around in my animal print muu-muu and watched Parenthood at my parents house. I was actually in bed by 10:30. Record breaking.
So I may not have got the important things done from my To-Do list like organizing and what not...but I did get lots of needed rest, and spend time with some of my favorite people... I guess I did get the important things done :)