The weather has definitely changed for the worse and my allergies are not too happy about it. I called out of work today due to extreme sinus congestion, so I am going to make this quick since all I really want to do is lay down and watch re-runs of Bones. This week we were smart to spend a lot of time inside and excited to spend time with my Uncle and cousin who were in town from California for my cousins volleyball tournament. So here is my quickie recap on the weekend:
-
Friday:
we went to the tournament and I was surprised about how exciting and enjoyable volleyball can be. It helps that my cousin is quite the player!
-
Saturday:
We actually ended up spending majority of the day at home watching Fringe (our new addiction!), lounging with pups and I painted my nails. My Grandma came over and we chatted for a bit (or awhile-she is quite the talker) and then we treated her to a Greek dinner, that she rather enjoyed. I love that woman!
-
Sunday:
we attended a surprise birthday party for my Uncle at my Aunts house. I made the cake, in packers colors, and we had a great time. That is until I started to get a terrible headache that, see above, has not gone away. BTW- this cake was a pain in the butt to make because the frosting kept melting- ah the joys of living in Arizona.
-
Every day of the weekend
: we drank lots of beverages from Sonics to keep cool. delish!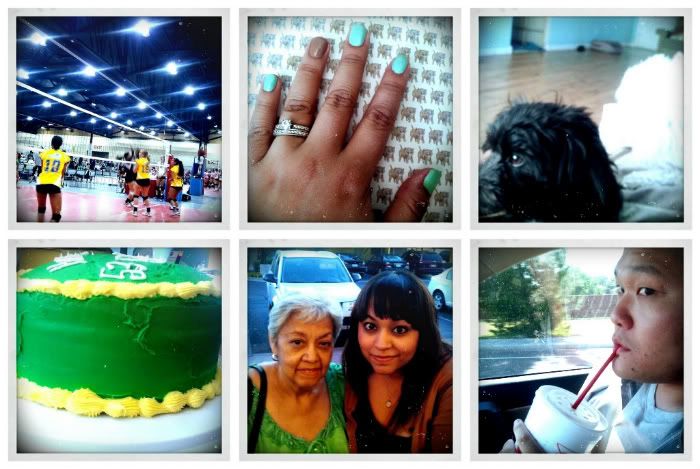 Now I am grabbing my blanket (which I have to blast the AC to use) and watching Bones.
How was your weekend?