I am not the only one who gets to experience first hand the wonder of Tims mind. Today is my brother-in-law Ryans birthday so I decided to throw in a conversation TK recently had with him.
Happy Birthday Ryan!
While visiting LA weekend before last, Ryans wife Debbie was out of town so the boys were discussing the foods they indulge in while the wife is away. For most,probably lots of beer and hamburgers every night. Like this: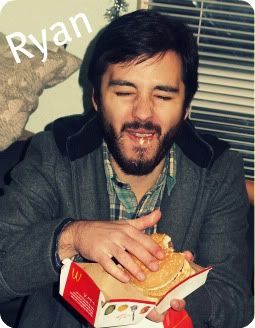 But for Tim...not so much

TK: When Bri was out of town I ate a can of baked beans!
RP: Beans? are you a hobo?
TK: What, that is a good meal! With some bread!
RP: A good meal? Maybe if you live on a train.

Fun-TK-Fact: Tim believes that if you add bread to any food, it instantly forms a well balanced meal.
P.S. Ryan, along with our good friend Sal, run
Cromeyellow
, where they post all sorts of cool things like Movie Reviews, Music, Art etc. Wish him a happy birthday by checking it out... you won't be dissapointed! You can also follow them on twitter here
@cromeyellowweb