So I know this post is late (apologies to those who were hoping I had given this up. Darn. So close!) but for some reason I am having a terrible time getting pictures off my phone. BTW- I sorta hate my phone.
Anyhow, in order to not delay the sharing of my weekend I decided to draw the pictures for you. yep, DRAW! I am known for a lot of things. Like, having small toes, having a large forehead, enjoying insanely bad movies (I never said they were good things) but I am not known for being a good drawer. There is one reason for that...because I am not. Very simple.
But, when you are bored, you do what you have to. Moving on...
This weekend we watched a lot of movies. Four to be exact, plus a lot of Fringe. Friday I came home and we had a lot of time to kill before our scheduled event for the night so we watched Movie 1- No strings attached. I love Natalie and almost everything she does, including Anywhere But Here, but while watching this movie, I wanted to be anywhere but watching that movie. But...Redemption! TK and I watched Movie 2- Tree of Life, later that night and Whoa. Intense. Beautiful...I think
this
sums it up.
Saturday I had a lazy morning while Tim mowed the lawn. Gold Star for the hubs! I laid around and read my new book before heading to the office for a few hours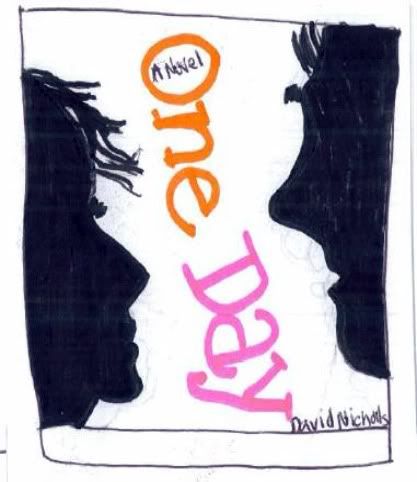 Later that night we met up with
Emily
and Pat where we proceeded to watch Movie 3-
Limitless
, and Movie 4- Jackass 3. Both enjoyable, one with much more genitalia.
Emily got a little cray-cray (wine? possibly) and had a mad craving for eggs. I think she may have shouted "I just want some eggs!!" at one point so we headed to our neighborhood Denny's for a late night feast. Like way late. Like 4am late. But that's okay because I am not sure Denny's taste good at any other time.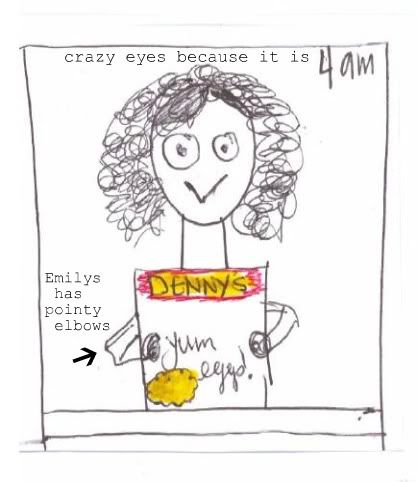 * I would just like to note that Emily's hair is much prettier than what I have done for her here. As well as her face. The eyes might be acurate though. She really wanted some eggs.
Sunday our house felt too hot to be inside so we headed down the street to my parents house for a swim. The weather was actually quite lovely and the water was perfect. Ah, what a lovely afternoon.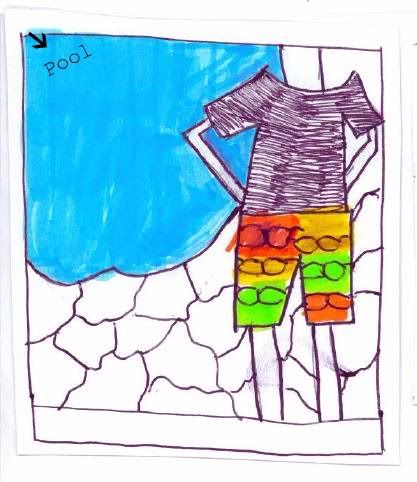 Tim made us Salmon and Bacon sandwiches (boy can cook!) for dinner and we ended the night with some Fringe.
Once I can get these pictures off my phone I will do a comparison post so you can have some entertainment. I am not going to ask you all to be nice about my lack of skill because if you draw anything like I do, I would not hesitate to laugh.
How was your weekend?