This is my Fathers Mother. Also known as my Grandmother who we affectionaltly referred to as "G".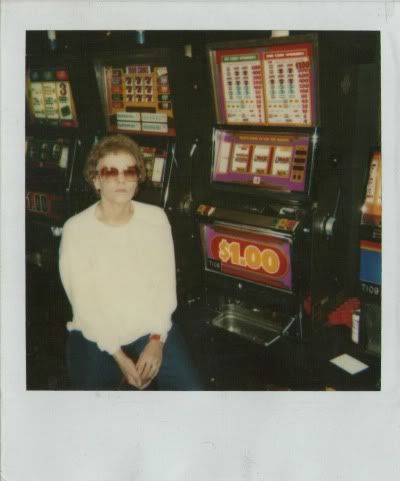 She passed away four years ago and today would have been her 73rd birthday. This lady was not your typical Lil ole sweet grandma. Oh no, she was a feisty one! She wore tinted glasses and a pant suit everyday like Dorothy from the Golden Girls. She smoked way to much and would angrily yell out your first and middle name if you said the word "fart". She preferred "toot". She made breakfast every Saturday morning and would make pancakes in weird shapes like Mickey Mouse heads or lizards. She was a high roller in Vegas and when she was not in sin city she played video poker in her bedroom. She was a big grouch and we loved her just as she was.
There has never been a question that my love for baking was definitely passed down from my grandma. The woman loved to bake and was damn good at it. I would sit in her kitchen for hours and watch as she prepared her annual Christmas cookies and fudge, or one of her delicious cakes. I payed close attention to her technique and learned the proper way to fold and knead and roll and sprinkle and you name it. She would not always let me get my hands dirty, but as I sat next to her she would explain each step to me and share with me the importance of the process.
I don't cook. I am just terrible at it and I just don't get it. Baking, I get. I understand that you can't stir when it says to fold. I get that you can't toss when it says to sift. I understand the importance, because my grandma showed me what a difference each step can make. I always thought it made her happy to see others enjoying her treats. She was not the most affectionate of women, but she shared her love through her baking. Now when I whip something up and I see my family and friends dig in and maybe even go for seconds, it makes me happy and I like to think it makes her happy too.
One of my all time favorite Grandma desserts was her banana cream pie. It also happens to be my dads favorite and the only recipe I know 100% by heart. Today I made it in her honor and so I thought I would share the recipe with you.
Grandma's Banana Cream Pie


-Ingredients-
Crust-

-1 1/2 cups finely crushed vanilla wafers
-1/2 cup finely crushed pecans
-1/3 cup melted butter
Filling-

-4 to 5 bananas thinly sliced
-8 ounces instant vanilla pudding
-2 cups of milk
-1 container of cool whip
To prepare crust:

-Pre-heat over to 350
-Add crushed vanilla wafers and pecans in a bowl and mix together. Pour melted butter around mixture. Using the back of a fork "smush" together mixture with butter until evenly distributed.
-Pour mixture into 9x13 pan
-Using the back of a spoon pack the mixture into the pan until entirely covered
-Bake for 10 minutes. Remove and let cool.
To prepare filling:

-mix instant pudding and milk in a bowl (I would not use less than 8 ounces but you can use more if you want a heftier pudding filling. Just continue to add more milk until you reach the desired consistency)
-set aside one cup of pudding in a separate bowl.
-evenly cover cooled crust with banana slices
-using the remaining pudding, evenly cover banana slices
-add one cup of cool whip to the one cup of pudding and mix. Evenly add across pan
-Top of the pie, evenly with the remaining cool whip.
-Refrigerate for a couple hours
(Keeps well for about 3-4 days)
Enjoy!